9 tags
The good the bad and the fugly at the Oscars
There were some serious fashion hits and a few devastating misses on the red carpet at the Oscars…Let the games begin! BEST BEAUTIES ON THE CARPET… Jennifer Lopez—Nobody does the bun better (or has better buns, lol) than Jennifer!   With a face like that, she should wear a bun every day…except, she'd probably have no hairline if she did that.  But you get what I...
11 tags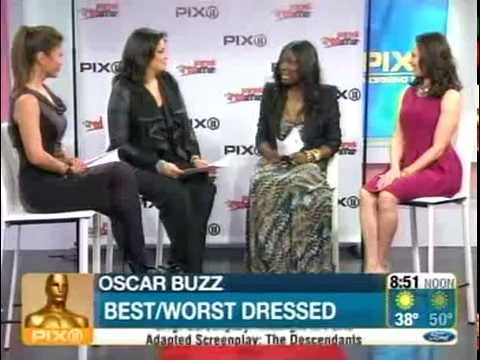 14 tags
Fashion week fall 2012
The Fall 2012 collections were on display this week in the big apple, and after seeing countless shows and observing all the looks that will rule the racks at stores in the next few months, there were three trends in particular that I really loved!! The magic of messy hair The models at the Mara Hoffman show had the coolest coifs of the week!  The big, windblown hair was a runway hit, but the...
11 tags
Blond Ambition
I'm usually not a fan of black girls going really blond, but I'm actually not mad at Rihanna or Ciara right now.  They've each put their own two-toned spin on platinum and the results are actually edgy and fun.       The good news is, a wig from high definition hair allows non-rock stars to try this trend without long term commitment or horrifying hair damage!  Visit...
Come on Kelly!!
Kelly Rowland!  Really?!?!?!?!?!!  This is how you wear your hair to the Grammy's??  WTF?!!  I can (barely) get over the casual hair not going with the fancy gown, but why are your un-weaved edges tucked under your ear instead of blended into weave???   TRAGIC!  The easiest way to ruin a beautiful dress is with BUSTED HAIR!!!  If that was your intention Kelly, then mission accomplished but...
8 tags
Little lady with lots of locks (already!)
The "Future Hair-nista Award" goes to Blue Ivy Carter for being born with a full head of hear, which happens to already shaped into a chic Halle Berry-esque crop!  What a cutie!! Have a beautiful life baby Blue!
6 tags
Rest in peace Whitney
We will always love you and miss you…
7 tags
Cameron's shocking crop options
Ok clearly we're kind of impartial to longer locks here at HDH Haute, so obviously I was pretty horrified when I first saw Cameron Diaz's new haircut.  I thought "has this girl lost her mind ?!?!".  But I have to admit, after seeing the way she's creatively found ways to switch it up and make it look different every night that she's been in Paris for the...
8 tags
Angie out does herself (finally!)
I'm usually super tough on Angelina Jolie.  While most people look at her and, by default, still delusionally see her as the hot & sexy vixen she was back in Lara Croft days, to me she's been looking pale, bony, and like she's been run ragged by her twenty five kids.  Having said all that, I believe in giving credit where it's due and I've been PLEASANTLY...
8 tags
Locks to watch in 2012
Of all the young starlets trying to establish themselves as true Hollywood beauties, Keke Palmer is leading the race.  Although still making that [sometimes difficult] transition from child star to grown-up actress, Keke has the spirit and the confidence to rock super long extensions with ease.  Whoever's caring for her hair is using what looks like really quality extensions—her hair...
18 tags
A season of bad crops
Change is ONLY good when said change is for the better, especially when it comes to chopping your locks.  In the case of many Hollywood starlets, switching their hair styles from long to short has been a complete disaster!!!  It took Ashlee Simpson SOOOOOOO long to escape her big sis's shadow and find her way in fashion.  But just when things started to look great in the hair department...
11 tags
Retro done right
Bravo Julianne Hough!  I'm SO glad you're grabbing that red carpet spotlight by stepping outside the box with your beauty routine and trying new things.  Many have tried this "old Hollywood glam" look, and MANY have failed (ahem, Katherine Heigl, see below), but you got it right!  You totally nailed the throwback bouncy waves—which is usually the first part of the look...
6 tags
Retro gone wrong!
If the definition of insanity is doing the same thing over and over expecting a different result, Katherine Heigl should be committed IMMEDIATELY!!!   I have one word for you Katherine Heigl…ENOUGH!!!!!   Its time to find a new do, cuz this one's a big don't! I don't mean to be insensitive Kat (can I call you Kat?).  I know you hair's damaged and fried on the ends, but...
11 tags
Introducing Eliza…
Move over Suri Cruise, there's a new pint sized pretty girl in town (well across the pond, whatever)!  Meet the future face of British glamour Eliza Lopes.                                        Mark my words, in 2026 Eliza's pictures will be all over the American glossies and she will be touted as the "Brit it girl du jour"!  Clearly poised to take her future place at the top of London...
8 tags
Holy hairdo hijacking!
BREAKING NEWS!!!  Katie Couric's been robbed!!!  By Lara Spencer!!!! The GMA co-host ditched her former extensions for the buttoned-up anchor look that's become Couric's signature.  I wonder what's up?  Is voluntarily aging yourself by 20 years the new trend!?  YIKES!!!  Good luck Lara…
Tyra??
I guess you've truly "made it" when you don't even have to show up to events, you can send a wax figure of yourself to get photographed on the red carpet.  OH WAIT!!!  Apparently, Tyra Banks really WAS at the Keep a child alive event in NYC.  Her make up was just so…HEAVY, and the baby hairs were just so…GREASED.  I was certain the real Tyra was having a quiet...
8 tags
Good Crop, Bad Crop
I have a love hate relationship with short cropped haircuts… love em when the cut is tight and tapered to perfection (on a girl with a gorgeous face), hate em when the cut is sloppy and choppy on a girl that's ahm, "handsome".  And such is the case with Michelle Williams and Carey Mulligan.  I'm big on starting with the positive, which would be Michelle...
5 tags
Reese is on a roll!
Congratulations to Reese Witherspoon for finally getting over all of her fashion faux pas and hair hangups.  It wasn't too long ago that Miss Reese's look was more "weeping willow" than WOW, but thankfully those days are OVA!!  That hot new husband has brought out the best in her and now she's on fire!!  Check out three of her most recent (and most stunning)...
15 tags
Talk about tousled through turmoil!
Everyone is talking about how thin and frail Demi Moore looked at the "Margin Call" premiere, but personally, I all I notice is her GORGEOUS dark, shiny hair!!   For someone who's supposedly having domestic problems, one thing that isn't giving Demi a problem is her fabulous mane!  I really respect a woman that doesn't let her hair fall apart just because her...
14 tags
The minimal makeup takeover
Some of Hollywood's hottest really stepped it up on the red carpet at the Elle magazine Women in Hollywood tribute last week.  The biggest trend of the night was definitely less is more makeup (so clearly the Kardashians weren't in attendance), and a few ladies in particular not only got the memo, they absolutely NAILED the look. Jennifer Aniston Ms. Aniston's glam squad does...
Funny girl falls flat in fashion
I hate to do it but, CHELSEA!!!!  WHAT THE HECK HAPPENED HERE!!!  WHO'S RESPONSIBLE FOR THIS?!!!?!!  YOU LOOK CRAZY!!  AND BAD!! You're at a fashion event, not a parent teacher conference!  And why would you be dressed for a PT conference anyway, you don't have any kids!?!?!  Honestly, I know you comediennes are all about the jokes, but this isn't funny, its ugly!!!  Too...
Fall's Fab trends
That brisk chill in the air means and sunset coming earlier and earlier mean one thing…FALL IS HERE, and if you want to look like you're in the know when it comes to style, these are the trends you MUST try this season: The marvelous middle A little bit retro a whole lotta fabulous, the middle part is taking center stage this season.  Whether you wear it wavy like Khloe K and Ciara,  or stick...
Fashion week highlights
HDH Haute was on the front lines of NY Fashion week absorbing all the fab fashions, famous faces and dramatic revelry.  Here are some of the highlights Carolina Herrera Definitely my FAVORITE show of the week!  Mrs. Herrera is the QUEEN of polished elegance.  She uses the most opulent fabrics and she always injects the slightest bit of clever edge to keep her ladylike pieces looking cool. ...
Fantasy frock swap
If I could've waved my magic wand on the Emmy red carpet, I would've made some of the attendees swap gowns with each other because OBVIOUSLY there was some couture confusion going on.  Christina Hendricks should've worn Amy Pohler's gown and Christina's gown should've been set on fire! Amy Pohler should've worn Minka Kelly's gown      Minka Kelly should've worn Martha Plimpton's gown...
The truth about the Emmy red carpet fashions
SO NOW THAT EVERYONE ELSE HAS WEIGHED IN ON THE RED CARPET FASHIONS (AND LIED THROUGH THEIR TEETH), ITS TIME TO BREAK THINGS DOWN HONESTLY!   YOU KNOW HOW WE DO HERE AT HDH HAUTE—WE GIVE CREDIT WHERE IT'S DUE AND CALL OUT THE CLOWNS FOR LOOKIN CRAZY.  WE'RE NOT AFRAID TO ACTUALLY SAY WHAT EVERYONE'S REALLY THINKING!  SO HERE GOES… Nina Dobrev This girl was HANDS DOWN the...
Beyonce "bumps" Kim Kardashian off the hot topics...
In a shocking, wonderful and much needed twist of fate, Beyonce announced last night that she's pregnant—which FINALLY switched the focus away from Kim K.'s circus, I mean wedding.  It was SOOOO refreshing to hear about something new happening in Hollywood (about a true superstar no less).    And if looking that stunning while pregnant wasn't enough to get people talkin,...
So many looks, so little style
I usually love Katy Perry's quirky, cuckoo couture but I wasn't impressed with any of her looks at the VMAs last night :( Its not that she looked hideous or anything, she just wasn't exciting.  I missed her usual retro pin-up glam and she's GOTTA go back to the jet black hair ASAP, her face and eyes just don't pop with this pink shade.   
The good, the bad and the boring at the VMAs
I could't tell you who won what at the VMAs last night but there were a few memorable looks at the show. I know its shocking, but Britney Spears was actually one of my favorites!  I'm so proud of you Brit Brit!!  You FINALLY figured out your weave situation, everything looks blended and smooth and there are no tracks or glue bonds showing.  And the black beaded mini is perfect for...
Top notch looks at Teen Choice 2011
This show might be geared towards a younger audience but there was nothing immature about the red carpet style at this year's Teen Choice awards, and as usual I have a few favorites… Never one to disappoint, miss Zoe Saldanda's printed strapless frock was a fun choice and her hair and makeup were right on target!  Thank goodness Kim K. got the memo that this was a...
From vampire movie to Va Va Va Voom!
At first glance I thought "WOW, the folks in W magazine's photo department are magicians…they made Lindsay Lohan look young and pretty again!!"   But then I snapped out of it and realized, magic isn't real and that aint Lindsay Lo—it's Kristen Stewart!  I for one am THRILLED to see this girl finally reaching her beauty potential!    And even though she...
Freida's Fashionable week
The lovely and talented Freida Pinto has been on a wardrobe whirlwind while promoting her new film Rise of the planet of the apes!  And needless to say there is nothing primitive about Freida's style, this girl is as modern and chic as it gets! I especially LOVE that's she's right on cue with the color of the season in the glam green gown she wore to the film's...
Smurfette's FINALLY having her moment!
Beat it Betty Boop!  Take a hike Tweety Bird…it's Smurfette's time to shine and it's about freakin time!  I mean, this is a gal who lives in a village with nothing but dudes and still manages to keep it together.     Her usual little white shift and round toe pumps are timeless, but how FAB is she modeling this fall's hottest accessories in Harper's...